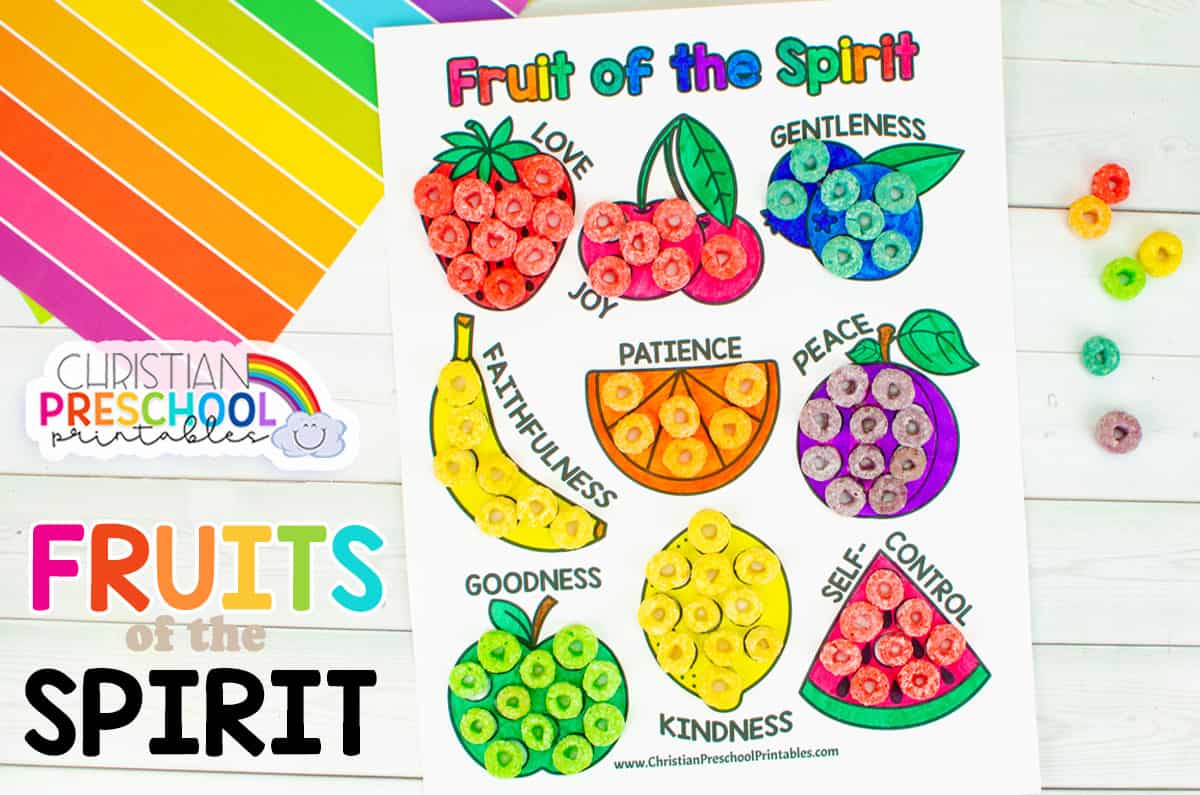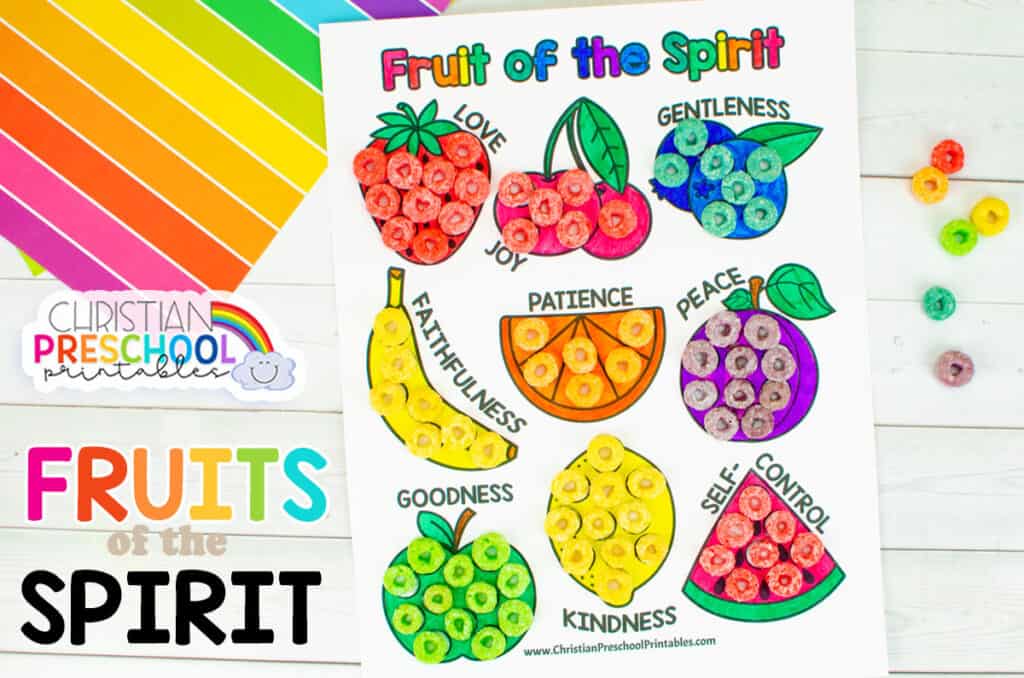 [adthrive-in-post-video-player video-id="EQmNF9Tn" upload-date="2020-06-15T12:00:00.000Z" name="Fruits of the Spirit Preschool Activity Mat" description="Print this fun Fruits of the Spirit Preschool Activity Mat Today! " player-type="default" override-embed="default"]
Fruit of the Spirit Bible Craft
Teaching the Fruits of the Spirit, whether in Sunday School, VBS, or at home, is an enjoyable and exciting topic for kids to learn. While it may seem to be hard to grasp, using physical objects we use every day make it so much easier for young ones. We've got another fun Fruit of the Spirit coloring page craft that's super easy to understand and follow along with our simple 4 step directions.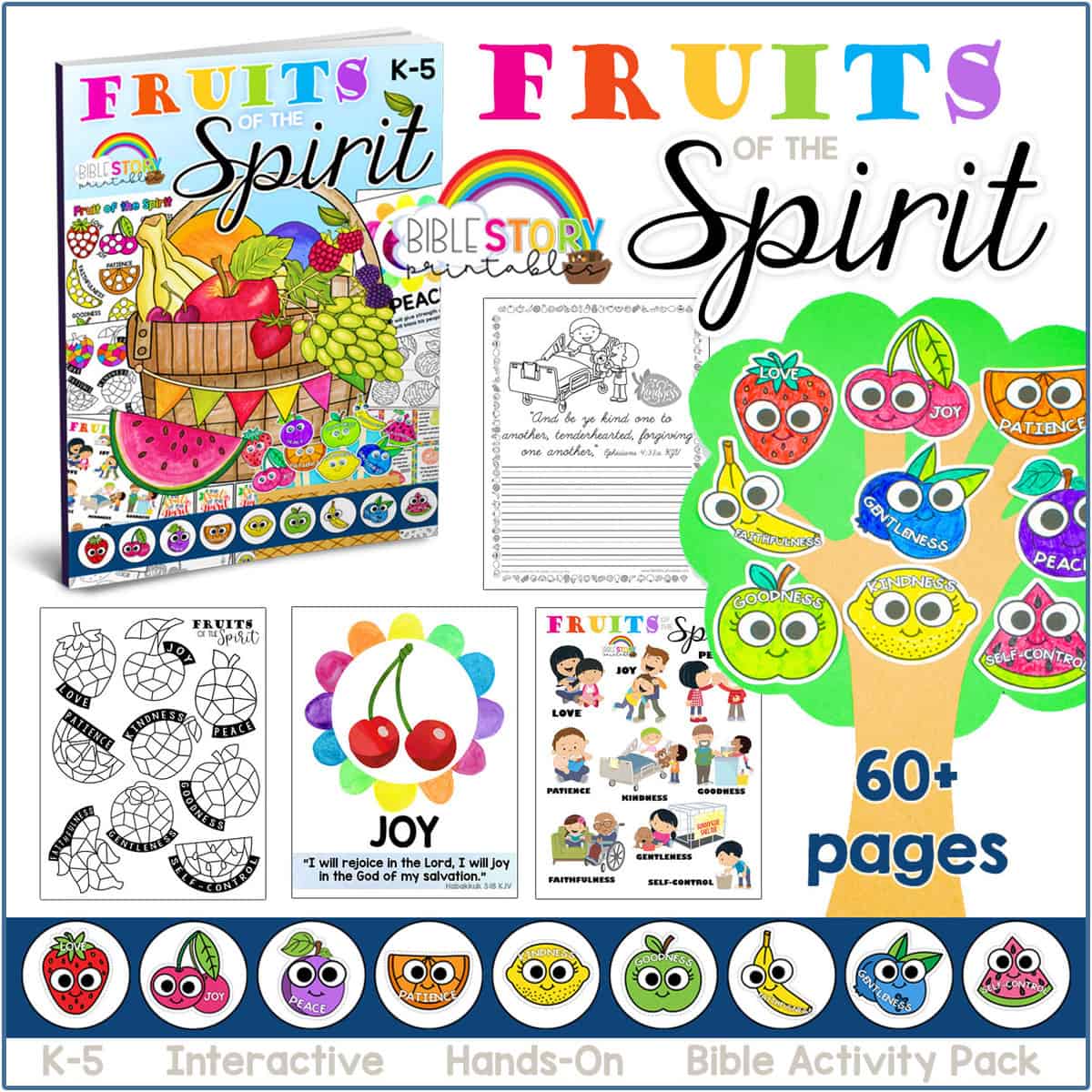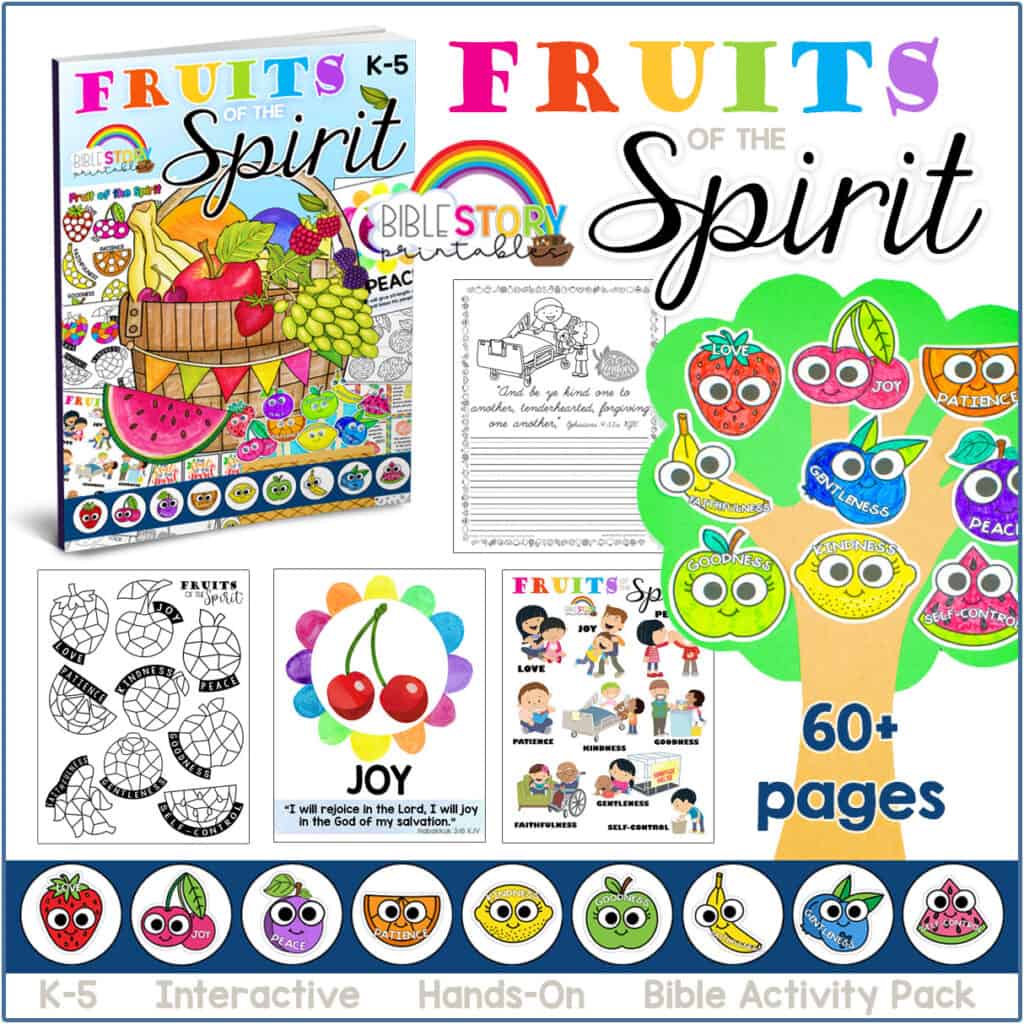 What are all 9 Fruits of the Spirit?
Need a refresher on all nine Fruits of the Spirit? Here is a complete list for the 9 Fruit of the Spirit in bible verse Galatians 5:22-23 (ESV):
Love
Joy
Peace
Patience
Kindness
Goodness
Faithfulness
Gentleness
Self-Control
While it seems like a lot of spiritual fruits to cover, we can help you along with our adorable set of Fruit of the Spirit Activity Pack! This not only covers the Fruit of the Spirit Coloring Pages, it also includes 10 worksheets, 5 adorable and amazingly easy to assemble crafts, songs and games, charts, take home resources and more!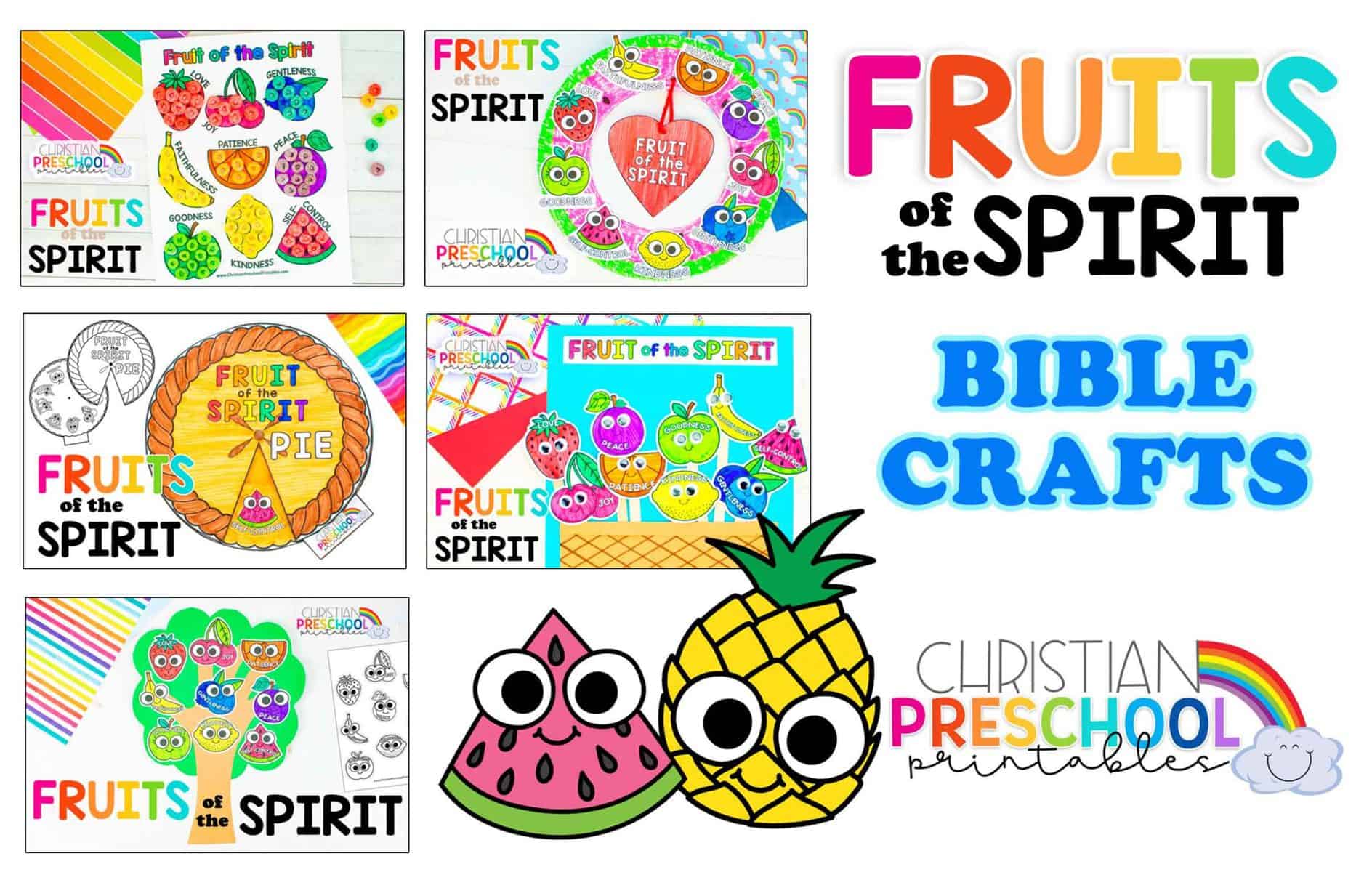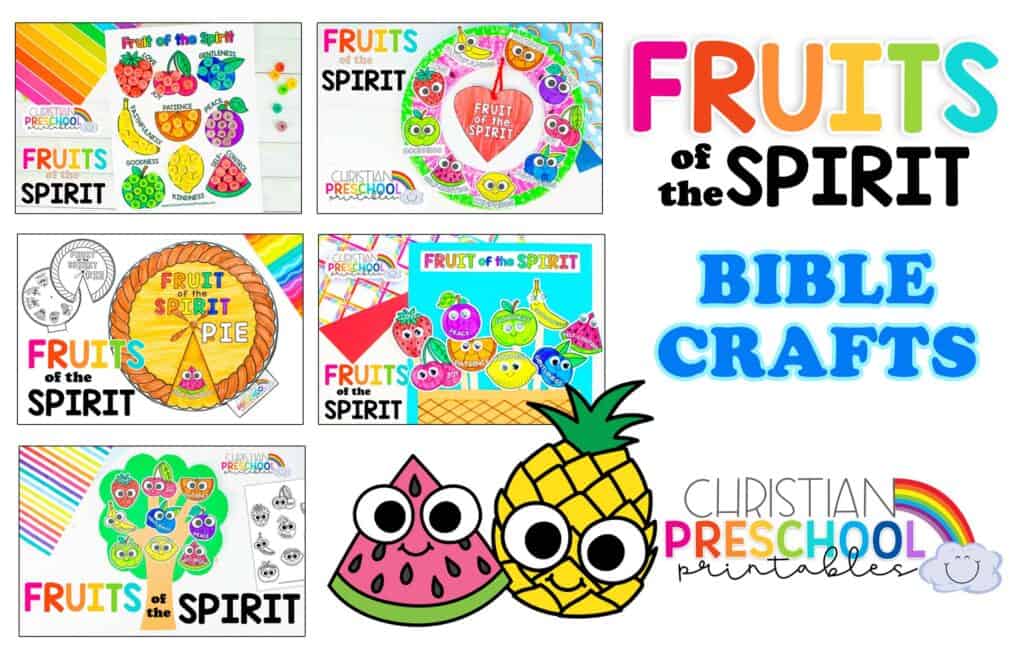 Got some fruity cereal like Fruit Loops or generic brand? You'll love this fruit of the spirit craft idea. With just a few markers, glue, and cereal, all you'll need to do is print off our Fruit of the Spirit Coloring Page and you'll be set! So, go ahead, read our easy to follow directions, and watch our quick video tutorial! Keep in mind –this is a great activity not only spiritually and mentally, but is a wonderful hands-on experience for fine motor skills!
Fruit of the Spirit Coloring Page Supplies
Cardstock
Markers
All-purpose glue
Multi-colored fruit cereal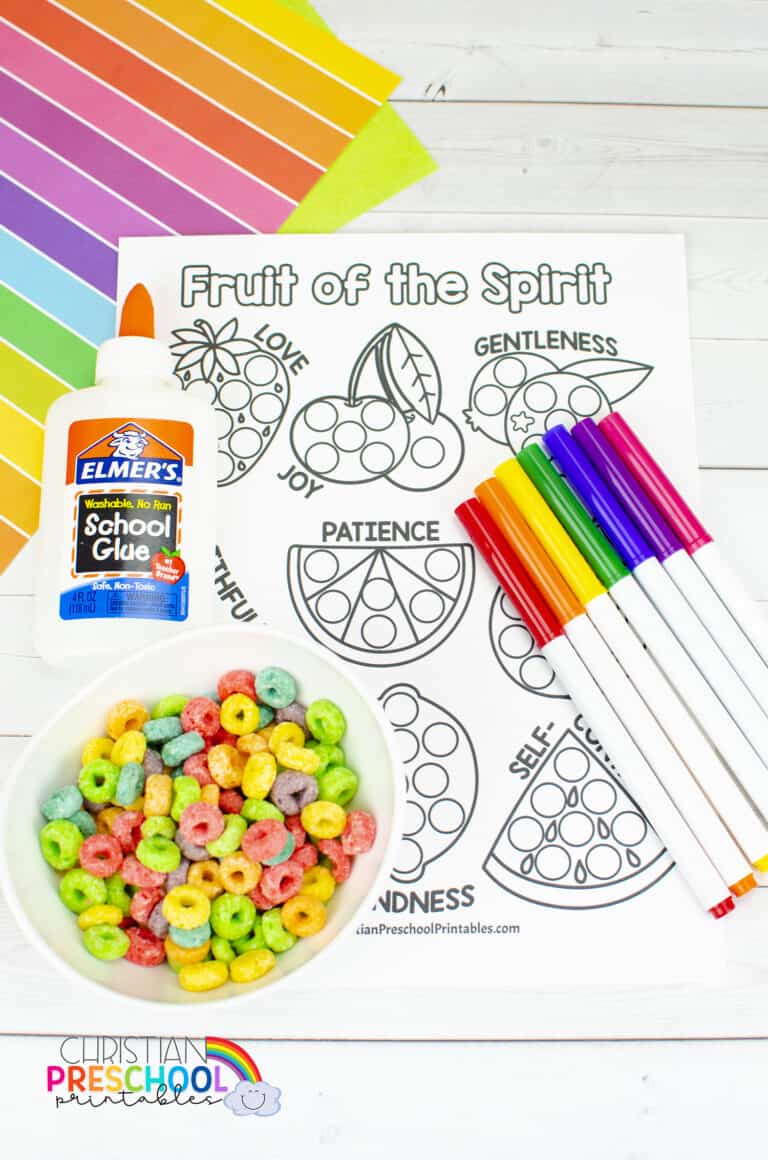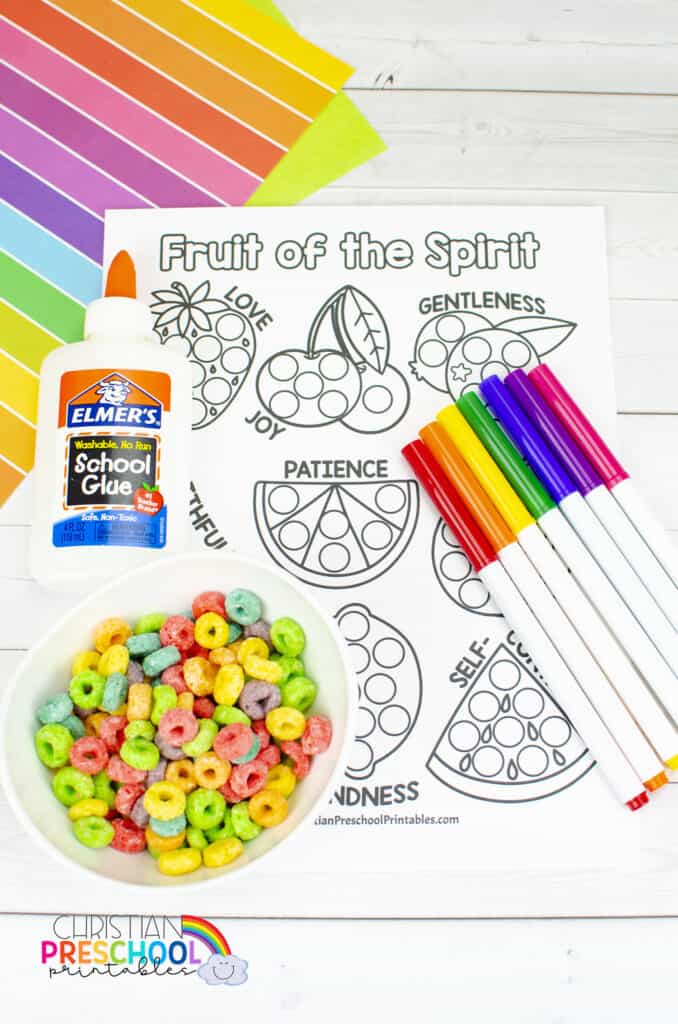 Fruit of the Spirit Craft with Cereal Instructions
1. First, print the Fruit of the Spirit template on heavy cardstock. You can choose from black and white or colored Fruit of the Spirit Worksheets.
2. If you choose the black and white template, then color the fruits. Kids can color right over the circles or go around them. It doesn't matter.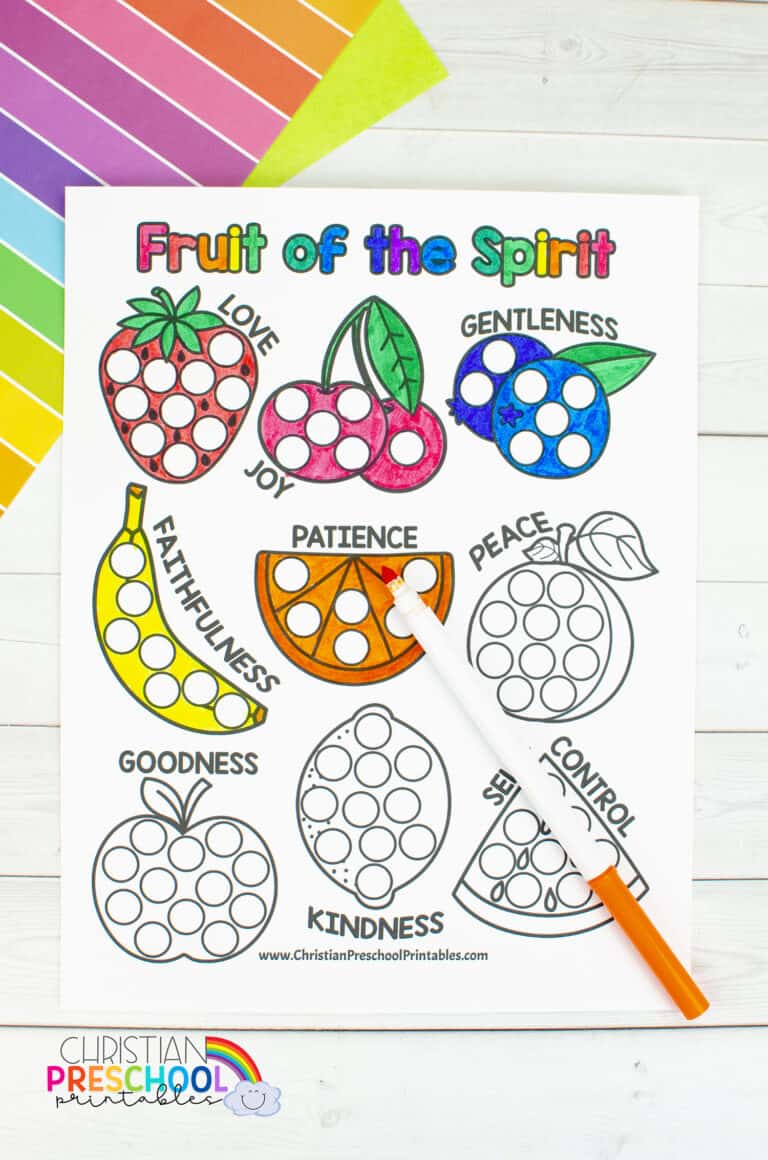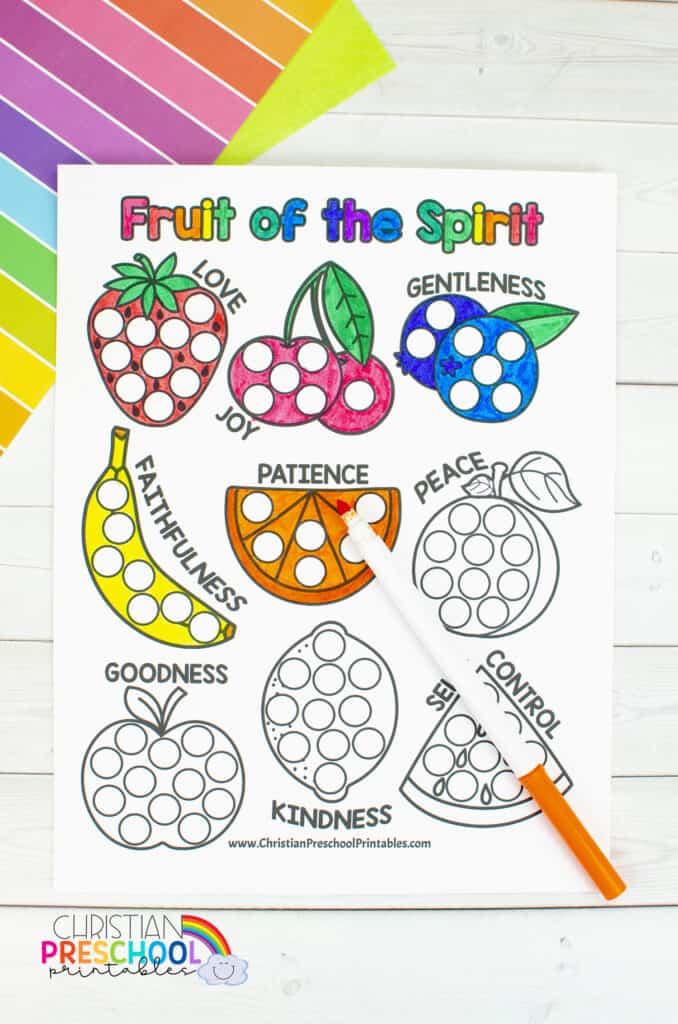 3. Now take the all-purpose glue and put a generous amount in the circles on each fruit. Stick on the color cereal that matches the fruit. Your students will be building a wide variety of fine motor skills with this activity. Remind your little ones NOT to eat these fruits since they have glue on them!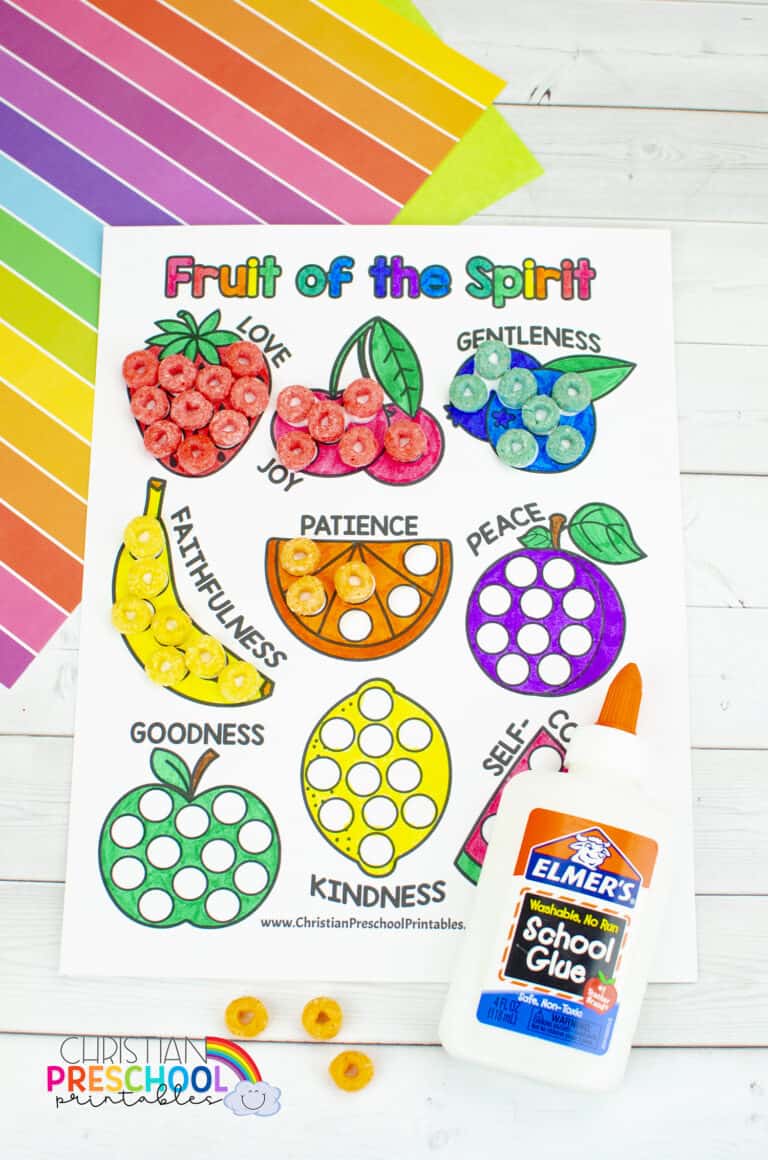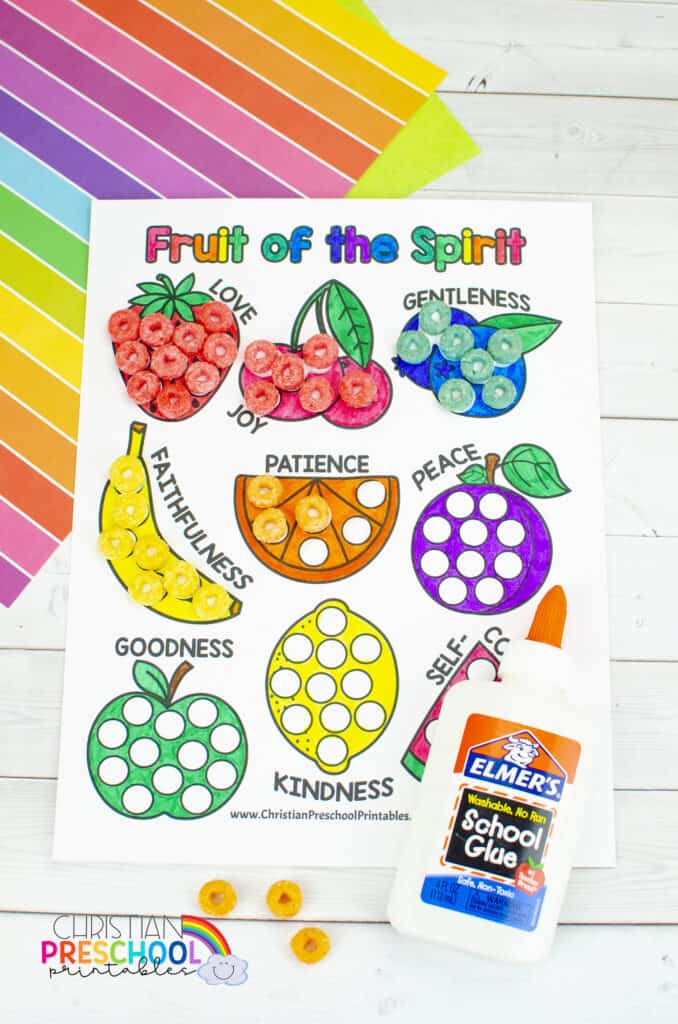 4. Allow some time to dry completely. (It might be good to start this project at the beginning of your Sunday School lesson to allow time to dry before students go home.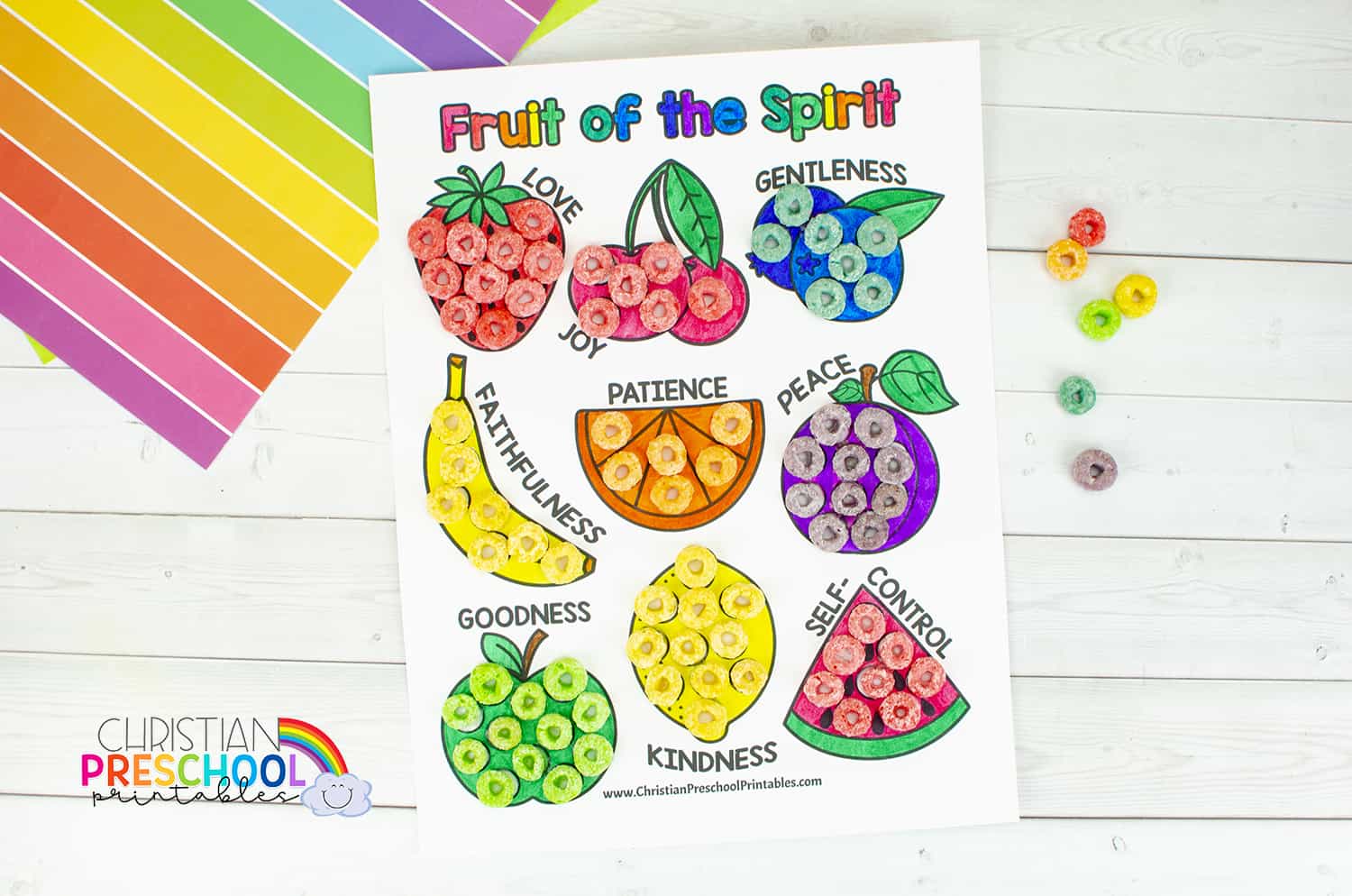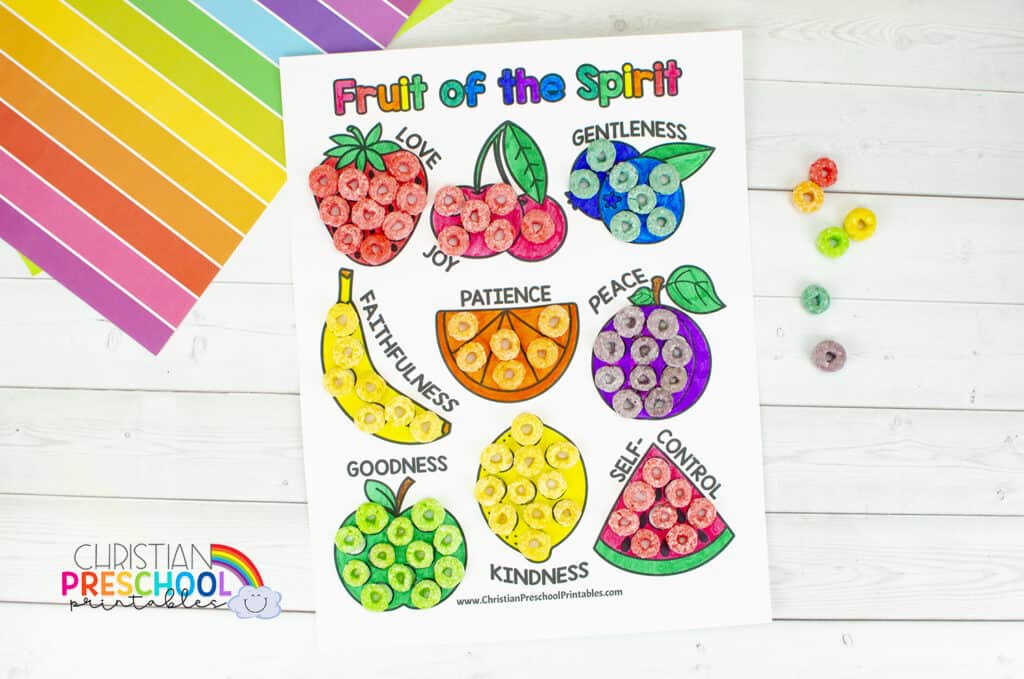 Once dry, your students will have a fun an fruity creation they can take home to remember the fruit of the spirit! Be sure to send them home with a little baggie of fruits that they CAN eat too!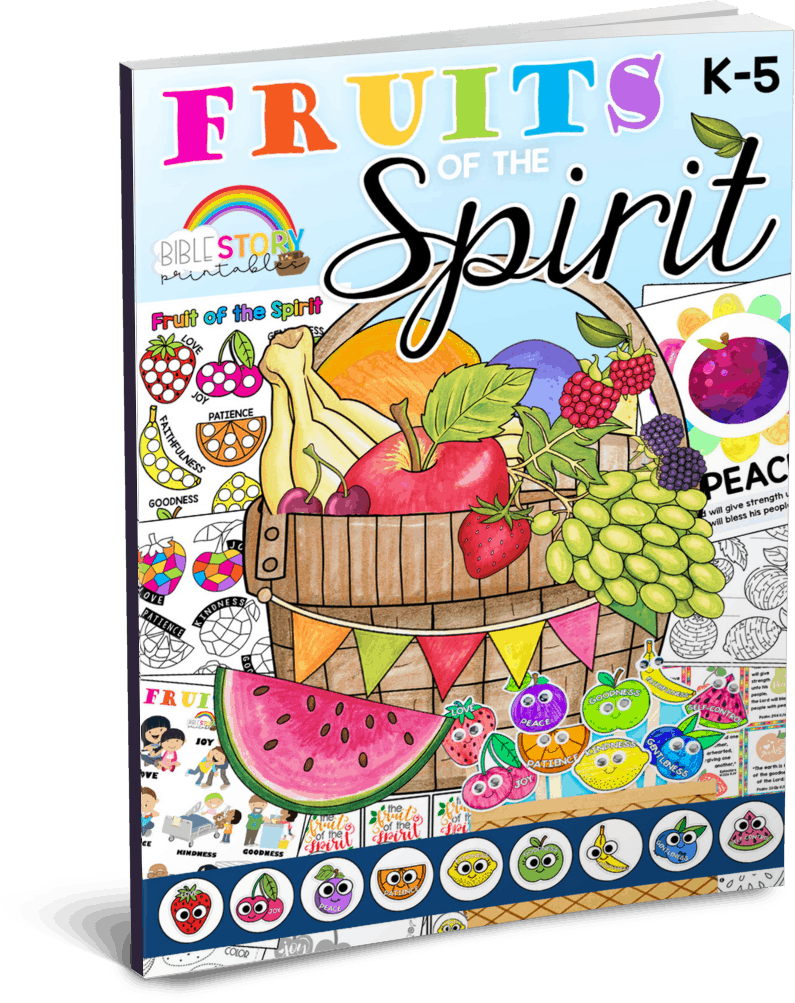 Teach your children the Fruits of the Spirit with these delightfully designed activities.  Your K-5 students will be thrilled with 60+ pages of hands-on games, crafts, worksheets, puzzles, Bible memory activities, and more! Featuring colorful and engaging resources, this set it sure to be a hit in your homeschool or Sunday School classroom for years to come.