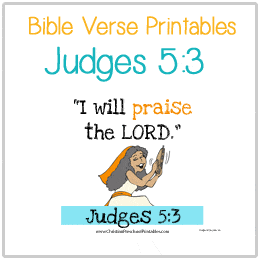 "I will praise the LORD." Judges 5:3 (NIV)
Judges 5:3 is short, simple and a great reminder that all praise belongs to God! This verse is great for worship themed bible lessons.. Use these printable resources when teaching this key Bible Verse to kids.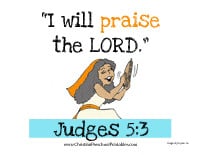 Here is a full page bible verse you can use as a visual in your
classroom. Mount to colored construction paper for durability.
This verse is perfect for lessons on courage and faith.
A simple coloring page for the bible verse, "I will
praise the LORD" Judges 5:3 This makes a great
children to remember their verse.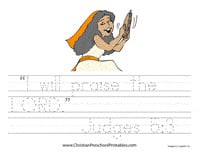 This is a bible verse tracer page for children who are ready to begin early handwriting skills. To make these reusable, laminate or slide into a page protector. Then children can use dry erase markers to practice their handwriting skills.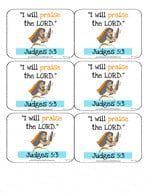 This is a set of six printable bible verse cards you can print to have children take home with them.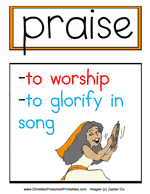 A printable word wall card with definition for the word
"praise." The full sheet makes a great visual for children
during storytime, print a separate set for children to work
on matching words to definitions.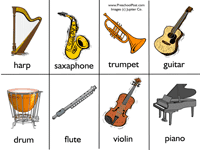 We've got some great printable matching
games on our sister site PreschoolPost.com.
Our musical matching game would make a
great thematic tie in with you Praise and
Worship bible lesson.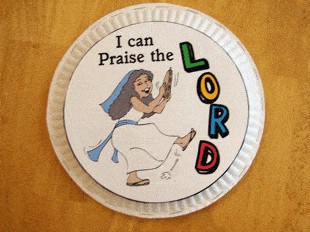 If you have time for a craft in your
classroom, try our paperplate tamborine
shakers. These are simple to make and
decorations, yarn and jingle bells.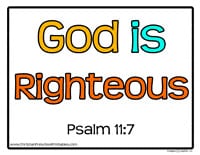 This is a simple printable you can use during your circle
time or discussion. Children can learn this important
truth about the character of God. Optional black and
white version makes a great coloring page.