The Christmas season is a great opportunity to teach children a candy cane object lesson. The candy cane is not only a sweet treat we hang on the Christmas tree, but it has many features that can be used to remind us what our Lord and Savior has done for us. Use the following printables (alongside a miniature candy cane) as special take-home items for your students this Winter.
If you are looking for a fun book to read to your children during December you might look into The Legend of the Candy Cane.
Introduce little ones to a beloved story in The Legend of the Candy Cane board book edition. Adapted from the picture book illustrated by New York Times bestselling artist Richard Cowdrey, the youngest child can now discover an inspiring story of hope that reveals the Christian symbolism of a favorite Christmas candy – the candy cane.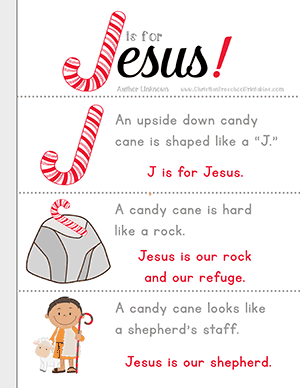 J is for Jesus is the perfect take-home booklet during the Christmas season. This small booklet shows children how the candy cane points to Jesus. Include a small mini candy cane as a treat for children. Available in Color or Black and White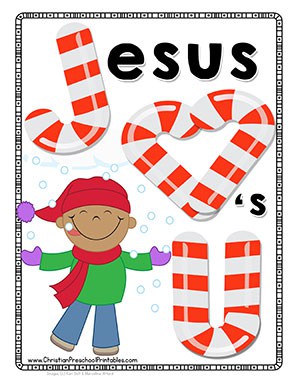 This is a beautiful, full color chart you can hang in your classroom that features the candy cane shape used to spell out, "Jesus Loves You." Print multiple pages per sheet to make take home cards for children to share with friends.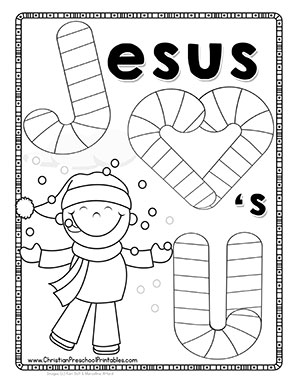 This coloring page features candy canes being used to spell out, "Jesus Loves You." This is a fanstastic take home sheet for Sunday School or Children's Ministry. Teach children that the red stands for the blood Jesus shed, and the white shows that he washed our sins clean.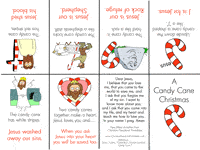 The candy cane has lots of properties you can use to explain salvation to children. These make wonderful take home gifts with a mini-candy cane for children during the holidays.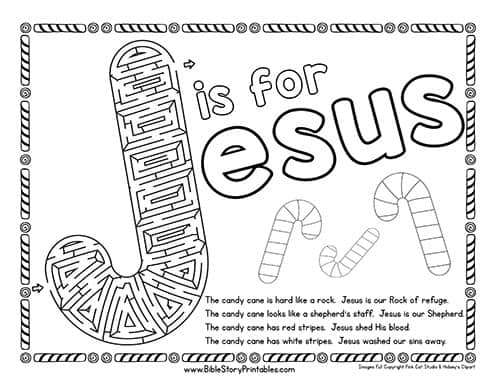 Find More Christmas Bible Printables Here! We've got a handful of more FREE Christmas Bible Printables on our sister site BibleStoryPrintables.com. The resources on that site focus on K-3 grade levels but there are many more resources too.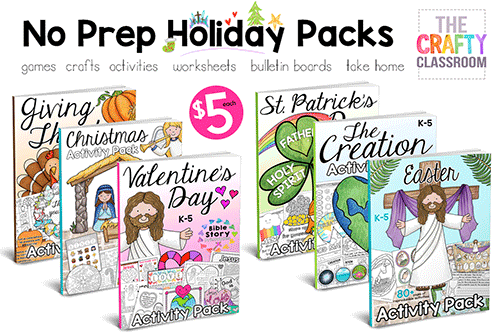 This no-prep Holiday Bundle Pack includes 6 of our best-selling holiday Bible packs! Each pack includes multi-level games, crafts, activities, worksheets, resources and more. These versatile sets work fantastically in homeschool or children's ministry settings. The following packs are included: